I sat down (virtually) with Lucy Felthouse for a short interview. Lucy Felthouse writes hot erotic romances and her latest release is A French Affair.

Cynthia Sax: What is your favorite line from A French Affair?
Lucy Felthouse: 'I understand,' she replied. 'And I guess we should see how things go. I mean, we haven't even kissed yet. You might be a lousy kisser!'
This is my favourite line because it's so funny. It was one of those lines that literally just came to me as I was writing the scene and it made me giggle as I was typing it. I also love it because it sets things up for a wonderful reply from the hero that is so sexy it made me tingle. Hopefully it will have the same affect on readers.
Cynthia Sax: Where does A French Affair start?
Lucy Felthouse: My story starts as the heroine is writing the beginning of her novel. She's using a laptop and is currently in a converted barn in a tiny village in Northern France. She's suddenly interrupted by a cacophony of noise from next door (the barn is split into two) and it startles her, making her type a bunch of gobbledegook on the screen. I didn't consciously set out to start it there. The story had been bubbling around in my head for ages before I actually got chance to write it, and when I sat down and started writing, that's where it made sense to start. It's right in the action and tells us something about the heroine right away.

Cynthia Sax: Where is A French Affair set?
Lucy Felthouse: The novella is set in Northern France. Mostly in a tiny village called Monthiers. Some of the action is also set in Paris. The setting of Monthiers isn't exciting, or sexy, really. It's a very quiet village which I've actually been to, which is where the idea came from. It's what happens between the characters that is exciting and sexy.
Now, Paris on the other hand is both exciting and sexy. It's my absolute favourite city (so far. I still have lots of travelling I want to do!), and since Monthiers isn't too far away from the French capital, I thought it would be a nice idea for my characters to go on a day trip there. It was a wonderful excuse for me to write about my favourite city, and a very easy place to write about romance, fun, beauty and love.

Cynthia Sax: What creates conflict between Sydney and Harry?

Lucy Felthouse: The heroine meets the owner of the accommodation she's staying in and thinks he's very sexy. However, she quickly notices he's wearing a wedding ring. He flirts with her, and she's not at all happy about it—she has absolutely no intention of getting involved with a married man and is determined to keep him at arm's length.
Thank you, Lucy Felthouse, for joining us today!
Lucy Felthouse's Website: http://lucyfelthouse.co.uk
*****************************************************************************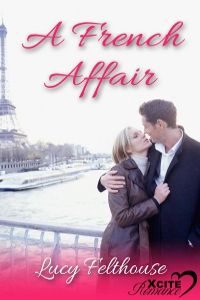 Sydney Tyler is renting a barn conversion in Northern France, planning to spend the fortnight getting some words down on her novel. Unfortunately, construction work in the other half of the building puts an end to her peace and quiet. Genuinely upset that the builders are going to disturb her, the property's handsome English owner, Harry Bay, offers to make it up to her. He's a little flirtatious, and after spotting his wedding ring, Sydney keeps him at arm's length. Sexy as he is, she has no intention of getting involved with a married man. But when Sydney learns the truth about Harry, will their mutual attraction spur them on to work through their emotional baggage and make this more than just a French affair?
Buy Now: http://lucyfelthouse.co.uk/published-works/a-french-affair/