I sat down (virtually) with Veronica Tower for a short interview. Veronica Tower writes hot erotic romances for Red Rose Publishing and her latest release is Healing, an erotic paranormal romance.

Cynthia Sax: Where does Healing start?
Veronica Tower: Healing starts with a horrific automobile accident in which my heroine, Ari Freeman, is paralyzed from the waist down. It is a psychologically devastating accident. In an instant her whole world is ripped apart as Ari goes from being a capable, independent woman who is the backbone of her extended family to a crippled dependent who has to learn how to care for herself again. Her boyfriend of many years dumps her and the extended family she's done so much for is less than attentive now that she's the one who needs help. In despair, she gives up on the world, but her somewhat crazy aunt, a cancer survivor, tells Ari of a secretive alternative medicine clinic in the Rocky Mountains and convinces her to take a wild chance to get her life back.
Cynthia Sax: So most of Healing is set at the clinic?
Veronica Tower: That's right. The Rocky Mountains are particularly beautiful and Hearthstone, the clinic, is isolated from the nearby communities. There are reasons for that isolation that aren't initially apparent, but a happy side affect is that it gives Ari and Arden a quiet peaceful backdrop to get to know each other in and fall in love.

Cynthia Sax: Is there a secret at Hearthstone?
Veronica Tower: This whole novel is about secrets—little mysteries that stand between Ari and the love of her life. If Ari and Arden are to have a future together, she has to uncover the truth behind Hearthstone and its miraculous cures and figure out if she can accept it. This is a beautiful love story, but it's not a Cinderella romance. True love brings a great many more challenges to Ari than she ever could have imagined.

Cynthia Sax: What do you love about writing erotic paranormal romances?

Veronica Tower: Paranormal romances let my imagination go crazy in ways that more mundane settings just can't. Those possibilities really excite me. I think when you stop to consider it, many romances revolve around this question: Is your couple willing to pay the price of love? Can they make the little accommodations and sacrifices necessary for two people to meld their lives into one? In the paranormal field, that tension can be brought to a whole new level because the sacrifices required in paranormal love are usually much greater than in other genres. That's certainly the case in Healing.
Thanks for hosting me on your site today, Cynthia. It's always a pleasure to talk fiction and romance
Thank you, Veronica Tower, for joining us today!
Veronica Tower's Website: http://veronicatower.com/
*****************************************************************************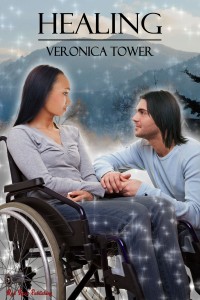 If you lost the use of your legs, what would you do to walk again? When an automobile accident severs Ari's spine, she's willing to try anything to regain her mobility and the independence that comes with it—even travel to a mysterious clinic in the Rocky Mountains in search of a miracle. But no one will tell her how the clinic achieves its fabulous cures or how an unbelievably handsome young man living at the facility factors into the process. Can this hot young man regenerate Ari's spine? And if he does, can Ari live with the hidden price of Healing?
Buy From Red Rose Publishing: http://redrosepublishing.com/books/product_info.php?products_id=974
Buy From Barnes and Noble: http://www.barnesandnoble.com/w/healing-veronica-tower/1115288468
Buy From Amazon: http://www.amazon.com/Healing-ebook/dp/B00CLZ816C