I sat down (virtually) with Lexi Post for a short interview. Lexi Post writes hot erotic romances for Ellora's Cave and her latest release is Masque, a very sexy paranormal.

Cynthia Sax: What makes your hero, Synn MacAlistair, sexy?
Lexi Post: Synn MacAlistair is a tall, dark, handsome hunk with long brown hair and grey eyes with shards of blue in them. That is what makes him physically sexy, but he has other traits that make him sexy. For one, he takes the heroine through 7 different sex rooms to discover what she likes and doesn't like. The fact that he encourages her to try new experiences without pushing her, is sexy, and he is always there as a participant and guide. Another trait that makes him sexy, one that I just love about him, is that after each experience, he picks her up in his arms, strides through the old Abbey completely naked, and puts her to bed. I mean, be still my heart.
Cynthia Sax: Where did you get the idea for Masque?
Lexi Post: I write erotic romances inspired by the classics. So this story was inspired by Edgar Allan Poe's "The Masque of the Red Death." I don't rewrite the story which is why I say "inspired." For example, in Poe's story, a black hooded figure arrives at the masque of the Prince wearing a mask in the likeness of a victim of the Red Death. This figure is the Red Death and everyone in the story dies. My thought waswhat if the figure was a friend of the Prince who just wanted to jolt him out of his revelry and remind him of his dying population outside the walls of the Abbey and the Prince's responsibility to them? But it all goes wrong when everyone in the Abbey dies. To make it worse, many never get to cross over. Just think of the guilt that friend, Synn, would feel, and what he would do to make it all right.

Cynthia Sax: Why does Masque start where it does?
Lexi Post: I loved writing the first scene because it was full of hope for both Synn and the heroine, Rena. From the roof, Synn witnesses the unlocking of the old Abbey after 150 years. The possibility of finally being able to help the ghosts cross over by taking a live person through the masque is heart-stopping. At first, he isn't happy that there are two women, but as he experiences desire for the first time in all those years, he begins to form plans. For Rena, who has just purchased the Abbey, it is a chance to open a haunted bed-and-breakfast and prove to her ex and herself that she can be successful without the crutch of her family. When she opens those giant doors and they creak, she is filled with hope.

Cynthia Sax: What creates conflict between Rena and Synn?

Lexi Post: Ah, now that is the killer. Rena needs a haunted bed-and-breakfast and Synn needs to help the ghosts cross over. If Synn succeeds, Rena loses her dream and her self-confidence. There is also the small issue of what exactly Synn is. Even he is not sure. He can disappear, and if he steps beyond the walls of the Abbey he will cease to exist, yet he is not a ghost. Rena thinks he has deceived her the first time he is forced to disappear in front of her. Oh, did I mention there is a ghost who is in no hurry to cross over. Yeah, he causes some conflicts too
Thank you, Lexi Post, for joining us today!
Lexi Post's Website: http://www.lexipostbooks.com
*****************************************************************************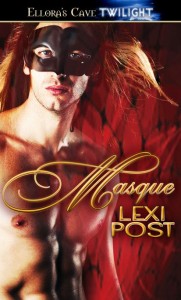 Rena Mills plans to turn an abandoned abbey into a haunted bed-and-breakfast to prove she can be successful without her ex-fiancé. What she finds inside is Synn MacAllistair, the distinguished, self-proclaimed Ghost Keeper. Her dreams soon fill with sexual cravings for him. But are they dreams?
Synn, born in 1828, is determined to free the souls of the resident spirits, blaming himself for bringing the Red Death that killed them. When Rena steps into the old Pleasure Palace, he's sure he can take her through the after-midnight Pleasure Rooms and stoke her passion to complete the Masque so the souls can cross over. Her innocent fire makes him crave more, but it's far too late for him.
As Rena begins her erotic journey, her heart becomes more involved with every sensual caress until she discovers by completing the Masque she would lose her ghosts. Synn's betrayal wars with her compassion for her ghostly friends. Torn, she must make a choice between her financial security and freeing seventy-three trapped souls. Either way, she could lose her Synn.
Buy From Ellora's Cave: http://www.ellorascave.com/masque.html
Buy From Barnes and Noble: http://www.barnesandnoble.com/w/masque-lexi-post/1114804818
Buy From Amazon: http://www.amazon.com/Masque-ebook/dp/B00BR070MS