I sat down (virtually) with A. M. Griffin for a short interview. A. M. Griffin writes hot SciFi romances for Ellora's Cave and her latest release is Dangerously Yours, the sequel to Dangerously Mine.

Cynthia Sax: What do you find most exciting about Dangerously Yours?
A. M. Griffin: I like seeing the progression from one story to another. I hate seeing a really good story end. That's why I love series! For me, it feels like the first story didn't end. I also love Sa'Mya and Kane. Both of these characters have a lot of growing up to do. It was important for me to redeem Sa'Mya from Dangerously Mine and in doing so, let the readers know and love her like I do. I couldn't pair Sa'Mya with just anyone, she needed someone just as head strong and stubborn as she is. I do believe they make one great couple.
Cynthia Sax: What is your favorite line from Dangerously Yours?
A. M. Griffin: He thumbed toward his bed. "What is that and why is it in my bed?"
I love this quote because it personifies how Kane feels about aliens in a nutshell. Although Sa'Mya is very humanoid looking, Kane still refers to her as an "it". Sa'Mya can understand Kane, unbeknownst to him at the time, and believe me, she isn't too happy with hearing him refer to her as an "it".

Cynthia Sax: What creates conflict between Kane and Sa'Mya?
A. M. Griffin: The major conflict which drives Dangerously Yours is that Kane hates all things alien. He blames aliens for his wife's death and aliens at large for not stepping in to help Earth during the hostile invasion. Even though he's attracted to Sa'Mya, he fights the feeling. Sa'Mya on the other hand, has no problem with her attraction to Kane. Luckily for her, Kane can't resist her for long, especially since he's got her trapped in his cabin.

Cynthia Sax: Will you be writing more stories in the Loving Dangerously series?

A. M. Griffin: Dangerously Yours is the second book in the Loving Dangerously Series. The first book in the series is Dangerously Mine, the third (on the way) is Dangerously Hers which tells Jess and Rasha's story, the fourth is Dangerously His tells JB and Saia's story and the fifth Dangerously Forever tells Allysan and Kiehle's story. Readers can visit my website under the "Works in Progress" page to track where I am with story completions!

Cynthia Sax: What one piece of advice would you give new writers?

A. M. Griffin: Believe in yourself! I could give a ton of advice such as finding great critique partners, take writing classes, join author groups…etc, but all that won't do a thing if you don't believe in yourself first.
Thank you, A. M. Griffin, for joining us today!
A. M. Griffin's Website: http://www.amgriffinbooks.com/dangerously-loving-series.html
*****************************************************************************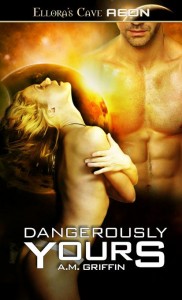 The steamy standalone sequel to Dangerously Mine.
Kane Epps divides his life into two distinct parts—before the alien invasion and after. Before the invasion, he had a pregnant wife and a high-powered job. After the invasion, he's left with only himself and his hatred for all things alien. He channels his bitterness by captaining a vessel of renegade humans—space pirates who don't think twice about taking what they need.
Princess Sa'Mya is on the run. She and a few trusted advisers fled her home planet, only to be captured by the sexy, dangerous Captain Epps. He claims to hate aliens but can't seem to resist touching her or kissing her…everywhere. As Kane introduces Sa'Mya to ever-increasing, unimaginable realms of pleasure, the princess becomes determined to earn his trust. She's used to getting what she wants. And this time, what she wants is Kane Epps.
Inside Scoop: This space-opera romance contains male/male sex scenes, girl-on-girl action, group sex and some good old-fashioned voyeurism.
Buy From Ellora's Cave: http://www.ellorascave.com/dangerously-yours.html
Buy From ARe: https://www.allromanceebooks.com/product-dangerouslyyours-1216017-340.html
Buy From Amazon: http://www.amazon.com/Dangerously-Yours-Loving-ebook/dp/B00CZBHA4Q/