I sat down (virtually) with Megan Slayer for a short interview. Megan Slayer writes hot erotic romances for Changeling Press and her latest release is Sweet and Wild, the 7th book in the fabulous Glow series.

Cynthia Sax: What is your favorite line from Sweet and Wild and why?
Megan Slayer: "If you can't get your mind off Callum, then a plastic lover is the next best thing. It won't talk back."
I love this line because the heroine is in a funk and doesn't know how to get out of it. We've all been there. Something let us down and we're pouting. Doesn't have to be forever, but there's that period of pouting. Her best friend has the answer—or so she thinks—to Sarah's problem. I laughed when I wrote it and I laugh when I read it. Plus, it's so true.
Cynthia Sax: What makes Callum and Sarah right for each other?
Megan Slayer: She's got a secret wild side she's still figuring out and he's all about helping her see just how wild she can get. Toys, bdsm games, sex in different places…he's willing to try them all, but only with her. And they find some hot ways to…mate.

Cynthia Sax: Will you be writing more stories in your fabulous Glow series?
Megan Slayer: Yes! There's a new wolf who popped up, Kreig, who wants his story told. I keep saying this will be the last Glow book, but that was two books ago, so what do I know. I keep writing when the characters inform me to. Kreig wasn't even planned. He just showed up and wants his counterpart. I have no idea who he or she is, so I'm still learning. But I love that about this series. The Glow band is it's own animal and the pieces of the other characters stories fit with it so well. Just a matter of figuring out who fits where.

Cynthia Sax: What one piece of advice would you give new writers?

Megan Slayer: Don't give up. Seriously. You never know who you will meet, what you will read, or where you will go that will be the spark for your writing. If you give up and listen to the negatives, then you won't get anywhere. You won't know what you've missed out on. I have to remind myself to yes, take reviews into consideration, but to also go with what's in my gut and never quit. It's hard sometimes because the need to write is there all the time, but the negatives can get under the skin and hurt, too.
Thank you, Megan Slayer, for joining us today!
Megan Slayer's Website: http://wendizwaduk.com/indexMegan.htm
*****************************************************************************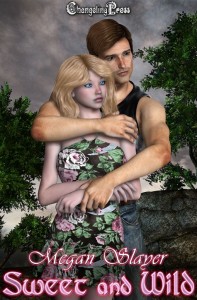 Finding his counterpart is the easy part. Making things permanent — now there's a tricky situation.
Sarah never planned to fall in love with a wolf — things just happened that way. He's back, but is she ready to hand over her heart? Or will she make him work for what he wants?
Callum knew the moment he met Sarah she was the woman for him. But life took him away from her. He's willing to do whatever she asks if it means having her in his arms.
Will they find the love they both deserve or will forces beyond their control shatter their sweet and wild dreams before they even get started?
Buy From Changeling Press: http://changelingpress.com/product.php?&upt=book&ubid=2067