I sat down (virtually) with Jennifer Kacey for a short interview. Jennifer Kacey writes hot erotic romances for Ellora's Cave and her latest release is Together in Cyn. Yeah. BEST TITLE EVER!

Cynthia Sax: Where is Together in Cyn set?
Jennifer Kacey: This story, and the entire series, is set in The Library. A members only BDSM club owned by Chris and Jared Kennedy, who are the heroes of Together in Cyn. The Library is a four story building filled with everything your naughty heart could possibly desire. Each of the owners/members/employees have a story. A secret desire…a confession they must unearth the strength to reveal. Each must accept themselves for what is truly inside, and embrace the fact that vanilla will never be their flavor of choice. I love the staid and snooty name for the club. Who's going to question you when you say, "I'm going to The Library"? It's unexpected and I LOVE that! (Minor confession – I've always wanted to own a club in a college town named The Library. This way I could "own" it and not have any overhead. Best of both worlds!)
Cynthia Sax: What creates conflict between Cyn, Jared and Chris?
Jennifer Kacey: Cyn has been in love with her best friends for…forever. But she can't pick just one of the brothers, and she needs more than just missionary in the dark. But she's convinced it can't work out, so what does she do? She writes it all down in her diary. Locked away, never to see the light of day. Until Jared accidentally grabs it from her nightstand, and he and Chris read every…last…word. What she wants, she tried with another man and it left her shaken and scared. The guys know something happened, because there are pages missing in her diary. They want her to trust them completely with the truth of what keeps her up at night, but Chris has a back full of scars he never talks about. They each have darkness in their past they have to come to terms with, and make a full time ménage relationship work as well. Yes Please!

Cynthia Sax: Is Together in Cyn part of a series and will you be writing more stories in this series?
Jennifer Kacey: This is a series! Yea!! The series is called Members Only. Yummy, huh? I've got my editor to thank for that one! Together in Cyn is the first of 10…yeah I really did say 10!! Seriously, cloud nine and I are very well acquainted! Book Two is Haleigh's Ink and is between Kyle, Scott and Haleigh. This one is an MMF. Book Three is a Christmas Quickie titled A Very Ménage Christmas and involves Skye, Jackson and Nick. These will both be published later this year. Thankfully both are fully written and I'm in edits for them as I type. Book Four is what I'm currently working on and that one is Jenna's Consent. This will be between Jenna, Nick and Ian and I'm SOOO excited to write their story! I say that about every book, but this one seriously speaks to me. Then six more after that. One MM, one New Adult which may actually turn out to be the harshest of all the books, funny how those things work out. Ooh ooh ooh and Book Six is Dawning Skye, which is between Skye, Jackson and Bradford, who won't be introduced until Book Four. The series is all mapped out. In my head and on paper thank heavens!

Cynthia Sax: What do you love about writing erotic romance?

Jennifer Kacey: The Sex. I love that I can write as much sex as I want into my stories. It doesn't have to all be sugary and sweet. It can be no-holds-barred crazy monkey sex and someone out there is going to think, "Damn, now I need crazy monkey sex!" That is awesome!!!!! Ooh! And I don't have to write just about one couple either. In Together in Cyn, Chris and Jared hook up with Cyn A LOT. Jenna gets to play with Cyn. Plus, I introduce everyone to Scott and Kyle, which are the two hero's in Book Two – Haleigh's Ink. And by "introduce" I mean have smokin hot, bend him over the side of the couch, kind of hi-how-are-ya. Anything goes, and that is unbelievably wonderful to write.

Cynthia Sax: What is your favorite line from Together in Cyn?

Jennifer Kacey: Okay don't hate me I had to answer this one too, but I'll keep it short (ish)! My favorite line. My first line. "So Cyn why aren't you fucking anybody?" It sets the tone of the entire series not just this one. It's harsh, and inquisitive and I totally got to write fuck into the first line. How cool is that?!? And it's the first. The first sentence anyone will know me for. Know my stories, hopefully love my characters as much as I do. It's humbling, and exciting, and I'm absolutely thrilled to be doing what I'm doing!
Thank you, Jennifer Kacey, for joining us today!
Jennifer Kacey's Website: http://www.jenniferkacey.com/index.php/books/together-in-cyn
*****************************************************************************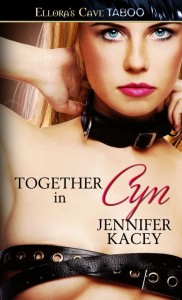 She knows it's wrong. Cyn shouldn't have feelings for fraternal twins Jared and Chris, her best friends. She shouldn't want them to tie her up or strap her down, to take her one at a time—or together. The only way to control her taboo desires is to write them down and lock them away in her diary. Guys like Jared and Chris could never be interested in someone like her, or in the kind of sex she craves.
But Jared and Chris have read her diary, and sweet little Cyn is in for the shock of her life. The brothers not only own a members-only BDSM club, they want her. Need her. And now, with their unlimited funds and an entire establishment devoted to fulfilling her darkest pleasures, they're going to claim Cyn for their own.
Inside Scoop: If you have a kink, this book probably has it too. If you like your ménage romances extra hot with a side of male-male romance, spanking, voyeurism and girl-on-girl action, come and get it.
A Romantica® BDSM erotic romance from Ellora's Cave
Buy From Ellora's Cave: http://www.ellorascave.com/together-in-cyn.html