I sat down (virtually) with Mari Carr for a short interview. Mari Carr is a New York Times Bestselling Author. I LOVE her stories. Her Wild Irish series is one of my favorite series of all time. Mari Carr's latest release is Full Moon, the second sexy contemporary in her delicious Second Chances series.

Cynthia Sax: What makes Jake sexy?
Mari Carr: Jake is my ultimate guy. He has definite alpha qualities, knows his way around the bedroom, but he's also laid back with a good sense of humor. He's a good listener and he's patient. In my mind, he'd be an awesome dad too.
Cynthia Sax: What do you find especially exciting about Full Moon?
Mari Carr: Full Moon is actually the second book in the Second Chances series and I'm thrilled with the whole lot! As I get older, I've come to realize that happily ever after doesn't always come when you expect it to. And sometimes it doesn't take the first time. There are six friends in this series, women who are all standing at a crossroads in their lives, looking for different things. Josie is a single, working mother who got married too young to an unfaithful husband. She tried the marriage routine and it didn't work out. She's not anxious to introduce her son to any new men, who may or may not stick around. For her…she wants the occasional roll in the hay with no strings attached and Jake agrees to play the game her way…at first.

Cynthia Sax: How does Full Moon start?
Mari Carr: This story begins like all the books in the series do. With all six friends spending New Year's Eve together at Laura's house. They're drinking wine and keeping each other company so they don't have to ring in the new year alone. Zoey decides it's ridiculous for six smart, attractive women to be alone, so she challenges each of them to set a goal for the coming year. To think of something they can work on that will ensure they won't be in the same place next New Year's. Josie's goal involves the Howl List—12 sexual fantasies she plans to endulge in. She'd endured lackluster sex with her husband—her first and only—for years. While she's not looking for forever or commitment, she does want to broaden her sexual horizons. So she creates the list, one adventure a month on the night of the full moon for every month of the year.

Cynthia Sax: What is your favorite line from Full Moon?

Mari Carr: My favorite scene in the book is where Jake finally convinces Josie he wants more than casual sex from her. A relationship is a scary thing to Josie, but Jake's humor wears her down.
***
"I want the rest of your full moons."
"The list is twelve months' worth."
He nodded, seemingly unfazed. What exactly was he asking for? A year's worth of sex? Or more?
"Give me your last name, your phone number and then show me the list."
She hesitated, started to refuse him. Then she realized it was pointless. He'd won them all the very first night, but her stubbornness had prevented her from seeing that. "My name is Josie Jacobson. But you know that. You've seen my credit card."
He grinned, not bothering to deny the truth. "I still wanted you to give it to me."
"Does that mean you looked up my number?"
"It's unlisted."
She scowled, pretending to be angry. "You cheater. Give me your cell."
He handed it to her without asking why. She was continually touched by his trust in her. She opened his contacts and added her name and number to the list. "There. That's me."
He glanced at the number, then pushed the button. Her phone rang and she laughed when he said, "Just checking."
"Now." Jake held out his hand. "Last thing. Hand the list over."
***
Thank you, Mari Carr, for joining us today!
Mari Carr's Website: http://www.maricarr.com
*****************************************************************************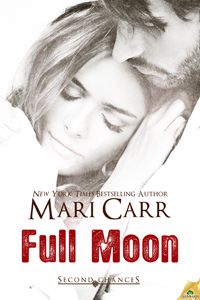 Sometimes it's not just the tide that rises…
Second Chances, Book 2
In the two years since her divorce was finalized, Josie Jacobson's life has become one long, boring routine. Work, home, repeat. She has her hands full as a single parent, and while she's not looking for a serious relationship, she sure wouldn't mind getting laid.
When her friend, Zoey, challenges her to make a New Year's resolution for a second chance at happiness, Josie goes one better and creates the "Howl List". Every full moon, she will indulge in a different sexual fantasy. Right at the top? Sex without strings.
Fate leads her to the Blue Moon bar in January. After all, what better place to howl? And when she meets Jake Stewart, the sexy bartender, and engages in some red-hot sex with a stranger, her year seems to be off to a great start.
At least, until Jake declares he wants all her full moons…
Warning: This is NOT the shifter story you are looking for. While the heroine howls during the full moon, she does it in naked, human-form only. Sorry—no wolves, but there is a really sexy bartender and lots of red-hot fantasies.
Buy From Samhain Publishing: http://store.samhainpublishing.com/full-moon-p-7419.html
Buy From Barnes and Noble: http://www.barnesandnoble.com/w/full-moon-mari-carr/1114718352
Buy From Amazon: http://www.amazon.com/Full-Moon-Second-Chances-ebook/dp/B00BETA0TC