I sat down (virtually) with Tina Donahue for a short interview. Tina Donahue writes hot erotic romances for Ellora's Cave and her latest release is Illicit Intent, Book Three in her wonderful Appointment with Pleasure series.

Cynthia Sax: What makes Joel and Guy sexy?
Tina Donahue: Their craving for Piper as a woman they not only hunger for, but one they like and respect before their carnal games. They accept her for who she is. Piper isn't beautiful by any means. She certainly doesn't consider herself drool-worthy even if Joel and Guy do. I believe that's because they like her personality first of all…they enjoy her as a friend. A woman they can talk to and share their dreams with. They're alphas, sure, (especially between the sheets, or in the shower, or the Jacuzzi) but Piper's sweet vulnerability make them want to give her all that they can…to protect and cherish her. Now, that's sexy.
Cynthia Sax: Will you be writing more stories in your Appointment with Pleasure series?
Tina Donahue: Illicit Intent is book three in my Appointment with Pleasure series. There will definitely be more books. I love the characters, including Ronnie, the lady who owns the escort agency and Alexa, the young woman whose wicked love affair with Hunt started it all. In book one, Alexa was Magique, a call girl who changed Hunt's world. Unable to resist her, Hunt didn't stop until she was his alone. Wow.

Cynthia Sax: What one piece of advice would you give new writers?
Tina Donahue: Learn your craft. Don't submit anything to an agent or a publisher unless you're absolutely certain it's the best it can possibly be. Editors won't teach you how to write. If your manuscript is a mess, they won't take the time to whip it into shape. There's simply too many other writers who know their craft and will make their editor's life easy. No matter what critics say about anyone being able to write a romance, don't you believe it. It's extremely difficult to get emotions down on a page and make them believable. Sex scenes are also hard (excuse the pun) to write. There's only so many ways someone can do 'it'. You have to be extremely inventive while also making it realistic and romantic. No easy task.

Cynthia Sax: What do you love about writing contemporary erotic romances?

Tina Donahue: I write contemporary, historical, ménage, suspense, paranormal, so I'll tell you what I most love about writing romance—any type of romance. The deep POV, getting inside my characters' heads and hearts. I love the HEAs, especially after my characters have gone through so much to be together. I've had reviewers and fans say they were so moved by my stories and characters, they've wept, laughed, sighed – they recalled the stories months after they read them. That's the best gift of all. To know you've moved someone. That your characters were real enough that the reader didn't want the story to end.
Thank you, Tina Donahue, for joining us today!
Tina Donahue's Website: http://www.tinadonahue.com/
*****************************************************************************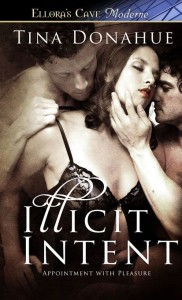 What's your wildest erotic wish?
For Piper, that's easy. Two alpha males who ravish her and find her curves beyond luscious. She knows her type isn't for every man—certainly not Guy and Joel, right? Guy's tall, dark and sinfully virile. Joel's blond and bronzed. They're freaking sex gods, escorts her friend hired so Piper's thirtieth birthday is unforgettable.
Their carnal games awaken Piper's sensuality, while her voluptuous figure and sweet vulnerability fuel both men's animal hunger.
One evening of decadent pleasure isn't enough. Piper aches to perform ménage acts with them for clients who like curvy women. A wicked idea, except for her family's ties with law enforcement, the threat of exposure.
Is her threesome worth the risk?
Buy From Ellora's Cave: http://www.ellorascave.com/illicit-intent.html