I sat down (virtually) with Sara Jay for a short interview. Sara Jay writes hot erotic romances for Changeling Press and her latest release is Hard as a Rock.

Cynthia Sax: What makes Canna sexy?
Sara Jay: Canna is gorgeously green with curves and cuteness, but she is also happy to play with almost anyone at the Pleasure Club! Patrons call her the club "poltergeist" because they get played with by what they think is a ghost. She loves to stay invisible as she teases patrons and gets them off. Basalt is an enormous stone warrior with sexy, long black hair and matching skin that drives Canna crazy.
Cynthia Sax: What excites you about Hard as a Rock?
Sara Jay: Several aspects of Basalt were inspired by my husband, so this story is my gift to him. It's already really exciting to read my books aloud to him, but this one is going to be the best yet! Plus, it's being released on our anniversary; how could it be more perfect than that?

Cynthia Sax: Where is Hard as a Rock set?
Sara Jay: Hard As A Rock takes place mostly in a futuristic sex club, where there are life-like human appendages, machines and rides made from a revolutionary material called Skintex. It makes the attractions feel real. There's also a filtration system that keeps the place clean and disease-free—but it's also in the future where most of those kinds of worries are gone anyway, which is nice!

Cynthia Sax: Does someone in Hard as as Rock have a secret?

Sara Jay: Oh, yes. The reader learns the secret within the prologue, but poor Canna doesn't get it until nearly the end of the book! It's a total happily ever after for her, I promise. She's just going to have some conflict and some soul-wrenching yearning on the way!

Cynthia Sax: What one piece of advice would you give new writers?

Sara Jay: I know it's said often, but get to that page every single day. It makes a total difference, even if you only write a sentence or two. If I promise myself I'll sit down and write for just ten minutes, it always turns into an hour or more of very productive writing time.

Cynthia Sax: What do you love about writing paranormal erotic romances?

Sara Jay: What's not to love about hot creatures? 😉 From dragons to elves to gargoyles… Well, life is a whole lot more interesting with them in it! I also like making my characters have powers, or turning the tables on situations that humans would normally encounter. For example, in my book Nobody Rides for Free, three bikers think it's their lucky day when they run across a seemingly helpless young woman in the desert. They have no idea that she's an insanely strong faery looking for some fun—and they're really the helpless ones next to her! In Hard As a Rock, there's a sinister man who hopes to capture Canna and make her his—but again, he's human, and he just underestimates the power of the supernatural.
Thank you, Sara Jay, for joining us today!
Sara Jay's Website: http://sarajayserotica.wordpress.com/
*****************************************************************************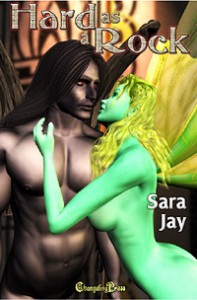 Canna, an impish, flirty faery, loves to service just about any client who enters The Pleasure Club, a futuristic sex club. But although the clientele is satisfied, Canna aches for the impossible. A sexy, larger-than-life gargoyle statue that happens to be a simple a décor item.
Basalt has spent centuries wanting Canna all to himself. Though his nightly visits train her to be his perfect lover, will she still want him when she finds out what he does during the day?
Buy From Changeling Press: https://www.changelingpress.com/product.php?&upt=book&ubid=2063