I sat down (virtually) with Christine d'Abo for a short interview. Christine d'Abo writes hot erotic romances for Carina Press, Ellora's Cave and a zillion other awesome publishers. She's a great writer and an even better friend. She's helped me so many times with my own stories. Her latest release is Sexcapades.

Cynthia Sax: What excites you about Sexcapades?
Christine d'Abo: The Internet provides people with so many different opportunities, not only to learn things, but to reach out and connect with people we wouldn't normally be able to. Sexcapades is a story that explores what happens when real life collides with the online world, and two people learn that not everything is as simple as they'd like to think.
This story let me mix humor with a touch of mystery, and a whole lot of hot sex. The combination turned out to be a lot of fun and a steamy story.
Cynthia Sax: Where did you get the idea for Sexcapades?
Christine d'Abo: This one came about because of some of my own relationships with people online. I've made friends worldwide who I wouldn't have had an opportunity to meet otherwise. I've shared rooms with them, meals, have had personal conversations about topics I wouldn't necessarily share with my family. I wanted to tell a story about a relationship that had its basis in the online world, and explore the challenges they would face when they finally met.

Cynthia Sax: What makes Petra and Darcy right for each other?
Christine d'Abo: I'm a firm believer in the idea that opposites attract. Petra is a series of contradictions—she wants to be the confident sex-goddess she know is buried somewhere inside her, but lacks the experience to make that happen. Darcy deals with real life issues on a daily basis, as a part of his day job. Together (both with their online personas and in their real lives) they provide the balance that they were missing.

Cynthia Sax: Is Sexcapades a series and will you be writing more stories in this series?

Christine d'Abo: Yes I am! Petra's best friend Alice disappears halfway through Sexcapades. While she loves her best friend, Alice has an adventure of her own happening at the same time. Her story is called Wonderland, and will be out this October from Carina Press.
Thank you, Christine d'Abo, for joining us today!
Christine d'Abo's Website: http://christinedabo.com/
*****************************************************************************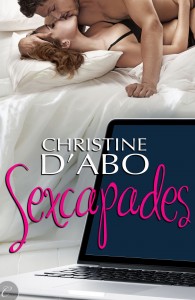 Petra Clark's blog Sexcapades inspires women to embrace sexuality. What readers don't know is that her advice isn't based on personal experience. Despite erotic fantasies about the hot guy at her local coffee shop, social anxiety keeps Petra from connecting with real men in the real world. She's more comfortable as PC, sparring online with her nemesis, the cocky D. Williams.
Counselor by day, blogger by night, Darcy Williams gets a thrill countering PC's female-friendly advice with a macho slant. And when both blogs are nominated for an award, he's intrigued by the chance to finally meet the woman who's been driving him wild with her Sexcapades.
When Petra runs into her coffee-shop crush at the awards party, sparks fly–and so do their clothes. Only after multiple orgasms does she realize who Darcy really is: the competition. Now they're facing accusations of fraud, with stalking and blackmail thrown in. But perhaps most frightening of all are the feelings growing between them…
Buy From Carina Press: http://tiny.cc/v8s3xw
Buy From Amazon: http://tiny.cc/t9s3xw
Buy From B&N: http://tiny.cc/oat3xw
Buy From Kobo: http://tiny.cc/abt3xw