I sat down (virtually) with Denysé Bridger for a short interview. Denysé Bridger writes hot erotic romances for Ellora's Cave and her latest release is Reckless Assignation.

Cynthia Sax: What excites you about Reckless Assignation?
Denysé Bridger: Several things make this particular story exciting and fun. To start with, it's set during Halloween, and that is also part of the backdrop for the seduction and adventure, as well as the lesson being taught to the heroine. This story is a bit different from many I write in that we have an older, worldly hero, and a younger, idealistic heroine. He's given up a dangerous but exciting lifestyle/work, and she's growing into a strong and confident woman as their relationship deepens and grows.
Cynthia Sax: Where is Reckless Assignation set?
Denysé Bridger: The setting is an abandoned, crumbling hotel, one that is reputed to be haunted by the ghosts of murdered people. It's exciting because in the opening scene we establish that the heroine is being lured by the hero – for a sensual seduction, but also as a way for him to teach her the dangers of being led by her curiosity.
He's gone to endless trouble to plan a romantic tryst that is filled with surprises, and lots of atmosphere. The trappings of Halloween were a lot of fun to write, creating the spooky atmosphere with oil lamps, candles, cobwebs, things that go bump in the night… The hero also has plans to introduce his partner to some new ways to have fun, and when he first makes contact with her, he blindfolds her, ties her to a chair and things get hot very quickly.
The thriller element comes into play when the happy couple is visited by someone from the hero's past, someone with a deadly score to settle. That's also where the paranormal element emerges…

Cynthia Sax: What do you love about writing paranormal erotic romances?
Denysé Bridger: In any paranormal one of the most fun aspects of it is the impossible becomes possible, first and foremost. Paranormal lends itself to atmosphere and romanticism on many levels, and there is never a wrong way to create a vampire, or a shifter, or a ghostly encounter. Even demons and angels can be so multi-layered, and so romantic if you sharpen the traditional elements that make romance so appealing.

Cynthia Sax: What goals have you set for 2013?

Denysé Bridger: The goal for 2013 is actually a three-parter, with at least a couple of the "wishes" standing a chance of being fulfilled. One, I want to finally work with a good agent, and have the perfect book for it – I hope! Secondly, once commitments from last year are cleared up, I have set myself the task of creating at least one new novel, though ideally it will be two. One is a fantasy set in Sicily, and the second one is a paranormal involving angels. Last wish is the least likely, I'd love to have my favourite model on the cover of one of the new books! So, here's hoping!!
Thank you, Denysé Bridger, for joining us today!
Denysé Bridger's Website: http://www.denysebridger.com
*****************************************************************************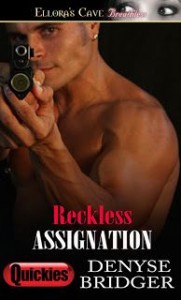 A haunted and abandoned hotel on Halloween is the setting for a very private party between two lovers, one of them a world-class, sophisticated intelligence operative who's trying to teach his young and innocent lady that curiosity can sometimes take you places you'd be better not to go. Amid elaborate trappings meant to scare and entice, Rick's seduction takes some unexpected but wickedly wonderful twists. But, Rick also has a lesson to learn, when his past collides with his present, and almost destroys everything he cherishes most.
Buy From Ellora's Cave: http://www.ellorascave.com/reckless-assignation.html