I sat down (virtually) with Jan Springer for a short interview. Jan Springer writes hot paranormal erotic romances for Ellora's Cave and her latest release is Passionate Ink. I LOVED this story!

Cynthia Sax: Does Calder, your hero in Passionate Ink, have a secret?
Jan Springer: Oh yes my yummy hero has a couple of secrets. Calder is actually a shape shifter but Cat, my heroine has no idea who he is. For all she knows, he's a hot guy looking for a tentacle tattoo on his…most private part! She doesn't know that at night he turns into part human and part Octopus – an Octoposeidon. He has lots of tentacles at night and that makes for some scorching tentacle sex. *wink* He also realizes that my heroine Cat has no idea she is about to come into her Change…she has no idea she is also an Octoposeidon!
Cynthia Sax: Will Passionate Ink be the first story in a new series?
Jan Springer: At first I didn't think it would be a series, but now I am toying with at least one sequel and maybe more. The outline phase is now in progress for the sequel to Passionate Ink, so I will see where it goes. I would like to keep the tattoo and tentacle aspects throughout the next book(s).

Cynthia Sax: What one piece of advice would you give new writers?
Jan Springer: The biggest piece of advice I would give to writers is to keep writing and keep learning your craft. Whether you are indie-publishing or looking toward the traditional route, just keep pumping out those stories because for the readers who love your stories they will want more and more! Before you know it, you will have a wonderful reader base who eagerly look for more of your books.

Cynthia Sax: What do you love about writing paranormal erotic romances?

Jan Springer: I love using my imagination. The more challenging the story the more it grips my attention and makes me want to keep writing it. The way I see it if it holds my attention, chances are it will capture the reader's heart as well.
Thank you, Jan Springer, for joining us today!
Jan Springer's Website: http://janspringerauthor.wordpress.com/
*****************************************************************************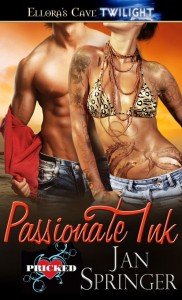 Tattoo artist Catalina Brown falls head over orgasms for the stranger who asks for a tentacle tattoo on his…most sensitive body part. Normally mixing business with pleasure isn't her thing, but he's a sexual magnet she's instantly drawn to, particularly after Cat experiences a wicked hot artistic high while tattooing his every succulent inch. It seems all too good to be true.
Octoposeidon shape shifter Calder Croft catches the female's succulent scent when she passes his California marina, and he can't ignore the way she fires his blood. After meeting her, he's stunned to discover Cat has no idea she's a shifter about to come into her Change. It takes all his self control to keep from ravishing the sexy woman right on the spot. Calder has to tell Cat the truth about her heritage. She'll either accept her birthright as a shifter-or succumb to madness, forever losing their chance at love.
Buy From Ellora's Cave: http://www.ellorascave.com/passionate-ink.html