I sat down (virtually) with Lisa Carlisle for a short interview. Lisa Carlisle writes hot paranormal erotic romances for Ellora's Cave and her latest release is Rock Me Tonight.

Cynthia Sax: What makes Nico sexy?
Lisa Carlisle: Nico is a software engineer by day—a total computer geek. But by night, he unleashes his wild side as a singer of a hard rock band. He's also into reading and writes songs based on books he's read. What's sexier than a literary rock star?
Cynthia Sax: Why does Rock Me Tonight start where it does?
Lisa Carlisle: Rock Me Tonight begins where my last book, Fiery Nights, ends. It's at the underground goth club Vamps where humans and supernatural characters interact. I loved writing the same rock scene from a different viewpoint. First, from a woman having a sexy song sung, dedicated by her lover, and then from a woman watching the event, wondering what it was like to have someone so into you they would do something as romantic as that.

Cynthia Sax: Where is Rock Me Tonight set and why is this setting exciting?
Lisa Carlisle: My series Underground Encounters is based on the setting. The goth club Vamps is hidden in a sleepy coastal village north of Boston. It's popularity spreads by word-of-mouth, catering to humans or supernatural characters who don't fit with the everyday world. Many of them feel like freaks, but feel free to express themselves however they like at the club. They wear all kinds of sexy, black outfits and fetish-wear, letting go of their everyday work selves in a setting that encourages them to be themselves.
For instance, Nike and Maya are the heroines in my first two books, Smoldering Nights and Fiery Nights. They are firefighters by day, working in a very male-dominated field. On their nights off, they like to peel off their shapeless firefighting gear to wear slinky outfits and decompress in a setting where they're free to dance and be free. Yet in each of their stories, they meet someone who turns a night out dancing into a lifechanging event.
In Rock Me Tonight, Lily goes with her friend to Vamps for the first time to celebrate a new promotion. Allie tells her to keep an open mind and not judge. But when Lily hears the seductive voice of the man crooning on stage, she has to get a better look. And when she sees Nico, well you can guess her reaction!

Cynthia Sax: I love secrets! Do any of your characters have a secret?


Lisa Carlisle: Yes, Lily is a shapeshifter who hates her furry little secret. She tries desperately to fit in as a human and hides her monthly change from humans, avoiding getting too close to anyone. When she meets Nico and he wants more than just a sexual fling with her, Lily must decide if she can trust him with her secret. The consequences could be disastrous.
Thank you, Lisa Carlisle, for joining us today!
Lisa Carlisle's Website: http://www.lisacarlislebooks.com/
*****************************************************************************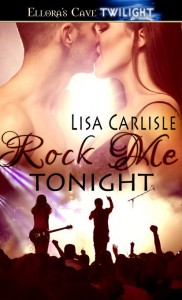 Lily Everett harbors a secret she's certain no one will understand. She needs sex, but won't consider a permanent relationship. When she meets the singer of a rock band at an underground nightclub, she's disarmed by his sensual voice and mischievous good looks. After an icy introduction, Lily warms up to Nico's charms.A computer geek by day, Nico dons a rock singer persona by night. He's tired of women pursuing him just because he's in a band—the sex may be handy, but he wants something more. He's intrigued by Lily's reticence.
Keeping her emotional distance proves difficult the more Lily uncovers the intelligent, considerate man hiding behind Nico's bad boy persona. Their encounters are hot-hot-hot, but Nico wants more from Lily than sex. When Lily lets down her guard and reveal her other side, Nico's shock destroys their closeness and they both doubt they can overcome their differences.
A Romantica® paranormal/shapeshifter erotic romance from Ellora's Cave
Buy From Ellora's Cave: http://www.ellorascave.com/rock-me-tonight.html