I sat down (virtually) with N.J. Walters for a short interview. N.J. Walters writes hot time travel romances for Ellora's Cave and her latest release is Strands of Love. I absolutely adore N.J. She not only is a talented writer but she's a huge supporter of new writers.

Cynthia Sax: Where did you get the idea for Strands of Love?
N.J. Walters: The Tapestries series originally began back in 2005 because I wanted to try my hand at writing a ménage at trois story. I had a heroine in mind but didn't know what her story was going to be. About the same time, I ran across a book on Medieval tapestries and the two ideas came together. I decided that there would be a tapestry infused with magic, one that would take single, unattached women to another world, one where they have the potential to thrive. But their choice of whether to remain with the warriors of Javara or return home to their own world wouldn't always be an easy one.
With Strands of Love I wanted to shake things up a bit. So this time, not only does the heroine travel to Javara, but the two warrior brothers end up on a modern day Texas farm. It was interesting to see how they reacted when plucked from their world and thrust into an entirely new one. Up until now, it's basically been the women doing all the adjusting. Now all of them need to search their hearts to decide what they truly want out of life.
Cynthia Sax: Why does Strands of Love start where it does? ?
N.J. Walters: The story opens with the heroine Samantha Calloway at the bank trying to get a loan. Both her parents have died in the past few years and her brother was killed while serving overseas. She's the last Calloway and determined to hold on to her family legacy—the farm that's been in her family for several generations. And she's willing to do whatever it takes to make that happen.
Sam is no stranger to hard work and challenges. Her entire life has been about working the land alongside her family until one by one they are all gone. Now the bank has turned her down for a much needed loan, her fast-talking, cheating ex is trying to get her to sell, and she's discovered two strange men wandering her land. Sam's life just got a whole lot more interesting and complicated.
I started the story here because it shows that Sam has a deep connection to her home and community. That makes her choices later on all the harder.

Cynthia Sax: What creates conflict between Sam, Darian and Jace?
N.J. Walters:The conflict comes from several different places. When Sam finds herself in Javara she won't believe she's in another world and thinks Darian and Jace have kidnapped her. They have to get her to believe what they are telling her is the truth and help her understand the magic of the tapestry—they have three days until it reappears and she must choose either them or her home. Then there is the fact that both Jace and Darian are competing sexually for her favor. In Javara women are scarce and brothers must share, but only one of them can marry her and claim the children as his own.
There is conflict among the brothers as well, especially because in this book there is a twist and they end up in Sam's world for a time. They are faced with hard choices—their loyalty to their land and their family and their growing love for Sam.

Cynthia Sax: Will there be more stories in the delicious Tapestries series?

N.J. Walters: Strands of Love will probably be the last Tapestries book. I hadn't originally planned on writing a series when I wrote the first book—Christina's Tapestry—but I fell in love with the characters and the land of Javara and couldn't stop. But I think that after seven books it's time to end it. It's hard to do because I love writing the Tapestries stories so much, and I know readers love them too.
Thank you, N.J. Walters, for joining us today!
N.J. Walters' Website: http://www.njwalters.com
*****************************************************************************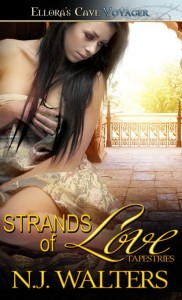 Seventh in the Tapestries series.
Samantha Calloway is desperately working to keep her farm from financial ruin. It's the only thing she has left from her deceased family and she's determined to make it a success at any cost.
Darian and Jace Hunter live in a world where women are in short supply and brothers must share. The magic tapestry has always brought a potential tapestry bride to Javara, but this time it transports the two brothers to a strange land.
When Samantha finds two strangers on her land she doesn't believe their stories of magic tapestries and other worlds. But when she suddenly finds herself in Javara, she doesn't know what to believe. And when the tapestry transports them all back to her farm, Sam has a choice. She must decide if she will be true to her family and their legacy or if she will abandon it all for a chance at love.
A Romantica® time travel erotic romance from Ellora's Cave
Buy From Ellora's Cave: http://www.ellorascave.com/strands-of-love.html