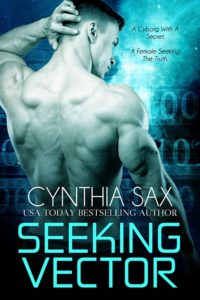 Woot!
Seeking Vector and Amanda Kelsey, my awesome cover artist, are nominated for a JABBIC in the Science Fiction Romance Category.
https://jabbic.hbarwa.com/science-fiction/
Please consider voting for all of these stunning entries (Five stars means you love it)!
Support Science Fiction Romance!
***
Subscribe To My Monthly Newsletter: http://tasteofcyn.com/2014/05/28/newsletter/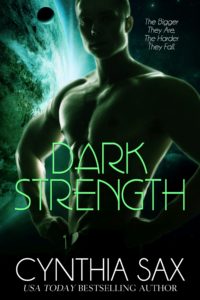 Dark Strength
The Bigger They Are, The Harder They Fall.
Balvan, the Refuge's Gatekeeper, is huge, green, and has a reputation for crushing skulls. He's a modified humanoid, genetically designed to be the ultimate warrior. One of a kind and considered monstrous by many, he never expects to find his mate, the one female meant for him.
Elyce, snatched from her home half a solar cycle ago, has finally escaped her brutal captors. She arrives at the Refuge barely alive. Only a blood transfusion from the largest male she has ever seen will save her life. But it will also bind her to him forever. Staring up, up, up at him, she wonders why she wants to be free. His gentle touch revives yearnings she thought dead. His lips set her skin ablaze. His massive muscles make her feel safe.
That feeling could be an illusion. Elyce's captors want their slave back and they won't stop until they have her. To give his mate her freedom, Balvan might be forced to give up everything he has – his role as the Gatekeeper, Elyce's love, and his life.
Dark Strength is a STANDALONE Alien SciFi Romance set in a dark, gritty, sometimes violent universe.
Buy Now:
Amazon US: https://www.amazon.com/Dark-Strength-Refuge-Book-3-ebook/dp/B078SYYWH5/
Amazon UK: https://www.amazon.co.uk/Dark-Strength-Refuge-Book-3-ebook/dp/B078SYYWH5/
Apple/iTunes : https://itunes.apple.com/us/book/dark-strength/id1332249866
B&N: https://www.barnesandnoble.com/w/dark-strength-cynthia-sax/1127772582
Kobo: https://www.kobo.com/ca/en/ebook/dark-strength
Smashwords: https://www.smashwords.com/books/view/775942
Topics: Awards | No Comments »
I sat down (virtually) with Renee Rose for a short interview. Renee Rose's latest release is The Hand of Vengeance, a SciFi Romance!
Renee Rose: Hi Cynthia! I'm so excited to be here on your site because, well, I want to be you when I grow up!

Cynthia Sax: What? I'm supposed to grow up? No one told me that. Okay, if we're doing a serious interview (grins)… What makes Blade sexy?
Renee Rose: Blade Vengeance is a dominant male on a planet where gender roles have reverted to primitive levels. He expects complete obedience from females and isn't afraid to administer discipline when he deems it necessary.
Cynthia Sax: What excites you most about The Hand of Vengeance?
Renee Rose: This is my first sci-fi! I had the scenario in my head of the dominant protector trekking through the wilderness with a woman who doesn't know what she's doing (I guess it's Romancing the Stone–lol!) but I couldn't quite figure out how to make it work in modern day times, so I realized I needed to create a new world, where a hot hero could take a woman in hand…

Cynthia Sax: How does The Hand of Vengeance start?
Renee Rose: My story starts in an old schoolhouse which is being used as a medical camp for Jeselians injured in the recent earthquake. The heroine, surgeon Lara Simmons, is operating on a patient when the lights go out. At first she thinks it's a normal power outage, but she soon realizes they are under siege by rebel troops who are there to kidnap her.

Cynthia Sax: What causes problems between Lara and Blade?

Renee Rose: The conflict between the hero and heroine is that of civilized vs. savage. The heroine comes from Earth, where there's hardly a difference between woman and men anymore, and where there's no wilderness left for exploring. The hero's people have been enslaved to work in diamond mines on a completely undeveloped planet. He is accustomed to violence, hard work, and living from the land.
Additional conflict comes from the hero's heart being shuttered, as a result of losing his sister to violence when he was a slave. He has vowed vengeance for her death, and his life from that point had been single-pointedly focused on that goal. Lara must coax his heart open again if they are to have a relationship.
The final conflict is Lara's own conflict with submission. As a modern woman from Earth, she finds Blade's discipline demeaning and sexist, yet her body responds to it. As she comes to crave his mastery, she must admit her own leanings as a submissive.
Cynthia Sax: Thank you, Renee Rose, for joining us today!
Renee Rose's Website: http://www.reneeroseromance.com
*****************************************************************************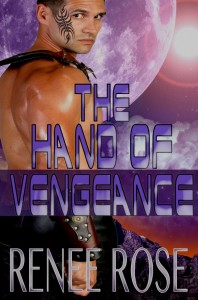 The Hand of Vengeance
On a humanitarian mission to the war-torn planet Jesel, Dr. Lara Simmons is used to dealing with lack of supplies, power outages and the constant earthquakes that afflict the planet. But when she's captured by the rebels who need her to perform a life-saving surgery, she finds herself in a situation her medical training didn't prepare her for.
When the airship is blown out of the sky, she ends up in the Jeselian wilderness with no one to rely on but Blade Vengeance, an enormous tattooed rebel warrior. Dominant and unyielding, he doesn't hesitate to take her in hand when she disobeys the rules he lays out for her. Yet she soon learns he also knows how to deliver pleasure–with a passion she's never before experienced.
Blade finds the doctor from Earth sexy as hell, especially when she's giving him attitude, but once he delivers her to headquarters, he tries to pull back from her allure. Known for single-handedly starting the revolution and freeing many of his people, his life is one of hardship, slavery and war. Going soft on a woman isn't part of his plan, especially with the final strike of the revolution so close. But when he sends Lara back to Earth to keep her safe during the upcoming battle, he inadvertently delivers her into enemy hands. Can he find and save her from the revolution he caused?
Publishers Note: This story contains spanking and explicit sex scenes, including anal penetration. If such subject matter offends, do not buy this book.
Buy Now:
On Amazon: http://www.amazon.com/Hand-Vengeance-Renee-Rose-ebook/dp/B016AWUW5E
On B&N: http://www.barnesandnoble.com/w/the-handof-vengeance-renee-rose/1122760440
Topics: Author Interviews | 1 Comment »