Woot!
The Cyborg series was named, collectively, as The Best Cover of 2017 by Suzanne at Under The Covers Book Blog!
ALL of these covers were designed by the awesome Amanda Kelsey!
She ROCKS and I don't know what I'd do without her!
Here's a snippet…
"I love the covers for this series almost as much as I love the actual series. Sax is queen of the sexy cyborgs, so if like me you love a red hot sci-fi romance give them a try!"
Read The Full Post Here – http://www.underthecoversbookblog.com/2017/12/suzannes-best-of-2017.html
***
Subscribe To My Monthly Newsletter: http://tasteofcyn.com/2014/05/28/newsletter/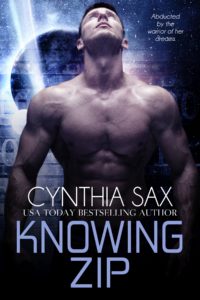 Knowing Zip
Abducted by the warrior of her dreams.
Zip is the last of his friends to find his female, the one being meant for him. He isn't certain she exists until he hears her voice over a transmission. A self-proclaimed systems deity, he researches his curvy little human and discovers she dreams of being abducted by a big, strong warrior. Zip plans to make his female's fantasies come true.
Ryssa wants one gift for her birthing planet rotation—to be captured by a warrior, preferably a tall, muscular cyborg with black hair, gray skin, and brilliant blue eyes. When Zip arrives on her planet, claiming to be her male, Ryssa assumes one of her friends has ordered the experience for her, and throws herself into the encounter, losing herself in Zip's hot kisses, sensual touch, dominant embrace.
When the fantasy fades, will their love survive?
Knowing Zip is a short companion story in the Cyborg Sizzle series and is meant to be read after Seeking Vector.
It is also a BBW Cyborg SciFi Romance set in a dark, gritty, sometimes violent universe.
Read For FREE At:
Amazon US: https://www.amazon.com/Knowing-Zip-Cyborg-Sizzle-Book-ebook/dp/B077YX5R58/
Amazon UK: https://www.amazon.co.uk/Knowing-Zip-Cyborg-Sizzle-Book-ebook/dp/B077YX5R58/
Apple/iBooks/iTunes: https://itunes.apple.com/us/book/knowing-zip/id1321052282?mt=11
B&N: https://www.barnesandnoble.com/w/knowing-zip-cynthia-sax/1127582104
Kobo: https://www.kobo.com/us/en/ebook/knowing-zip
Smashwords: https://www.smashwords.com/books/view/761413
Topics: Awards | No Comments »