I'm talking about Seeking Vector and Secrets with Delilah Devlin.
Here's a snippet…
I LOVE secrets. I'm terrible at keeping my own secrets (as I consider almost everyone to be my friend) but I will take the secrets of others to the grave. The sharing of secrets is an act of trust and I would never knowingly betray someone else's trust.
That's why I love it, in romances, when couples (or more) finally reveal their secrets to each other. It signals a huge step in their relationship. They are being vulnerable, giving the other person (or being) a possible weapon against them, trusting that other person not to hurt them.
Read the entire post here: https://www.delilahdevlin.com/blog/2017/10/06/cynthia-sax-seeking-vector-and-secrets/
***
Subscribe To My Monthly Newsletter: http://tasteofcyn.com/2014/05/28/newsletter/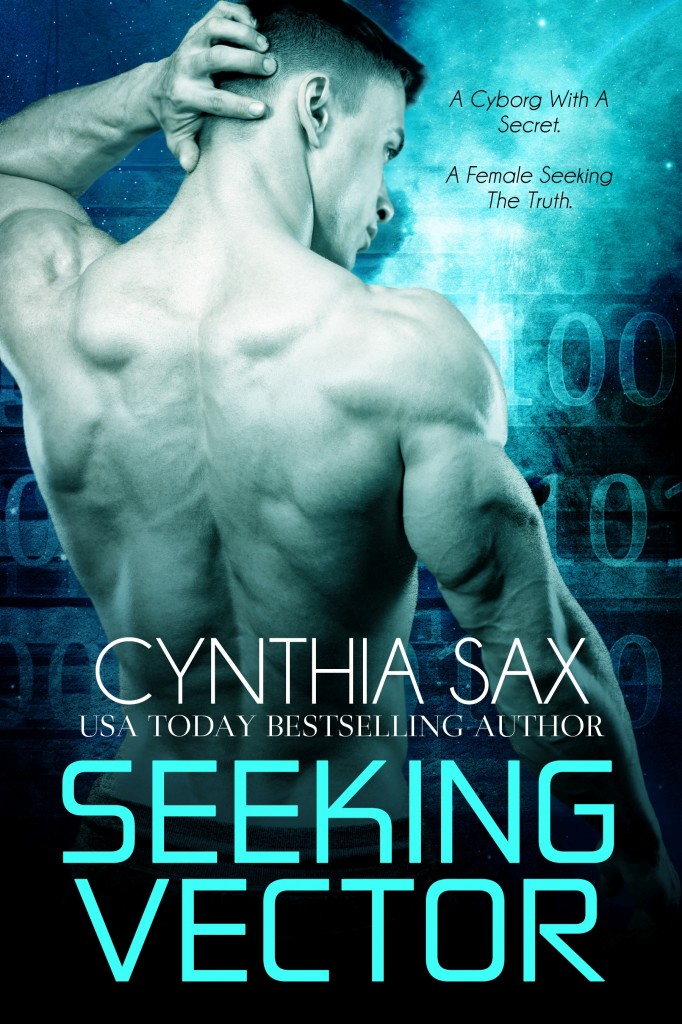 Seeking Vector
A cyborg with a secret… A female seeking the truth…
Vector, the C Model captain of the Freedom, is a cyborg many warriors wish to emulate. He fights fiercely, leads with honor, has earned the respect and loyalty of his crew. But no being, not even a cyborg, is perfect. Since arriving at the Homeland, Vector has been hiding a dark truth about his past. If his secret is exposed, he could lose everything – his position, his ship, and his life.
Kasia excels at uncovering secrets. Half a lifespan ago, her curiosity placed her on the Humanoid Alliance's kill list. Now she has accessed information the cyborg council would prefer remain hidden. Their warriors are hunting her and won't rest until she's dead.
When Vector arrives on her battle station, all grim determination, gray skin, and bulging muscles, Kasia knows he has been sent to kill her. That doesn't stop her from wanting the dominant cyborg. She senses the savage nature under the male's controlled exterior, sees the mysteries in his brilliant blue eyes, craves the roughness of his touch. She will risk all she has to experience his embrace.
Kasia braved the cyborg council's ire for a reason. If she doesn't convince Vector to act on the information she uncovered, the enemy could destroy his home planet and render every cyborg in the universe immobile.
Can a doubting C Model warrior learn to trust and to love before it is too late?
Seeking Vector is Book 10 in the Cyborg Sizzle series and is a STAND-ALONE story.
It is also a Cyborg SciFi Romance.
Buy Now:
Amazon US: https://www.amazon.com/Seeking-Vector-Cyborg-Sizzle-Book-ebook/dp/B075FHBW87/
Amazon UK: https://www.amazon.co.uk/Seeking-Vector-Cyborg-Sizzle-Book-ebook/dp/B075FHBW87/
Apple/iBooks/iTunes: https://itunes.apple.com/us/book/seeking-vector/id1280185990
B&N: https://www.barnesandnoble.com/w/seeking-vector-cynthia-sax/1127072529
Kobo: https://www.kobo.com/us/en/ebook/seeking-vector
Smashwords: https://www.smashwords.com/books/view/746717