I sat down (virtually) with Zenobia Renquist for a short interview. Zenobia Renquist's latest release is VIP Room Service (Other Related Duties #1), a Contemporary Erotica with BDSM AND a MFM Menage. It is currently on sale for 99 cents!

Cynthia Sax: How does VIP Room Service start?
Zenobia Renquist: VIP Room Service (Other Related Duties #1)—on sale for 99¢ (regularly $2.99) until 26 Sep—starts with Lexie headed to the time clock after a long day on her feet, cleaning rooms and other such things hotel housekeepers do. She's tired and wants to be home so she can get off her feet. I started the story there because that's a place most people have been and can relate to easily. Clockwatchers of the world united in a common goal of hurrying up the second hand so they can leave already. But, of course, this is the beginning of a story so Lexie doesn't get to go home.
Cynthia Sax: Where is VIP Room Service set?
Zenobia Renquist: The story is set is a very posh five-star hotel with all the glitz and glamor that entails. The locale is sexy because this is an upscale establishment where the cheapest room is way more expensive than the normal traveler can afford so you wouldn't expect anything bordering on illegal going on in the VIP rooms…or would you? I've always held the belief that only rich people can afford to break (or bend) the law and Mr. Malena is no exception.

Cynthia Sax: Is VIP Room Service part of a series?
Zenobia Renquist: Most definitely a series, though the stories are all stand alone. The common theme uniting each title is the reason for the series name—other related duties. Anyone who has signed a work contract has seen that phrase at the bottom in small print. It's meant to encompass anything the employer forgot to list under work duties so the employee can't later say, when asked to perform a task, "that's not my job." Well in this series, that catch-all phrase means way more than running out to get donuts or staying late to plan an office picnic. There is only one title in the series at the moment, but the next heroine—a live-in personal assistant—should be due out in the next few months.

Cynthia Sax: What one piece of advice would you give new writers?

Zenobia Renquist: Don't be afraid to write what you love. If you love it, there is a reader out there who will love it as well. It's just a matter of finding that reader and hoping said reader has a lot of like-minded friends. When you write what you love, writing isn't work. There's plenty of aspects of this profession that are work—hard work at that. Writing shouldn't be counted on that list. Editing however is, but that's a totally different animal.
Thank you, Zenobia Renquist, for joining us today!
Zenobia Renquist's Website: http://zenobiarenquist.com/
*****************************************************************************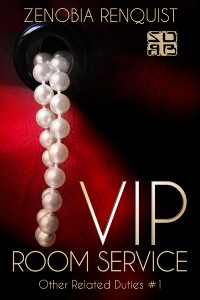 She offers satisfaction above and beyond what is requested.
Lexie's job as a maid at a five-star hotel doesn't normally include the unique and risqué form of room service that rich guest Mr. Malena has requested, nor the generous tip he's offered. Submission and exhibition and a ménage. Lexie can't resist. What should have been a one-time thing turns into an introduction into the sensual world of customer satisfaction. This is one workplace encounter that could get her fired…or will it?
NOTE: Title previously published as Wine Service (Professional Courtesy 1).
Buy Now:
All Romance eBooks
https://www.allromanceebooks.com/product-viproomserviceotherrelatedduties1-1768225-354.html
Google
https://play.google.com/store/books/details/Zenobia_Renquist_VIP_Room_Service?id=yPyhBwAAQBAJ
iBooks
https://itunes.apple.com/book/vip-room-service/id980481147
Kindle
http://www.amazon.com/dp/B00V8RE64K/
Kobo
https://store.kobobooks.com/en-US/ebook/vip-room-service
Nook
http://www.barnesandnoble.com/w/books/1121647282?ean=2940151231589
Smashwords (use coupon code FH44L at checkout to receive sale price)