This post has adult content. If you are under the age of eighteen years old and/or sensitive to adult language/situations, please do not read this post.
We're writing erotic romance. Sex plays a huge role in our stories. Exploration of the character's sexuality is part of his or her growth as a person (or as an alien or as a sheepdog shifter).
We're also trying to write interesting stories. No one wants to read about the average person. Average people are boring. Fucked up people are more exciting. Usually fucked up people have fucked up sex lives.
Tell Me Why
In the real world, people are random. If you asked me why I had jellybeans for breakfast, I couldn't tell you. I do shit and have no idea why.
In erotic romanceland, characters should have a reason for doing things. If they like to have their ears tickled with feathers, something in their past made them crave this fetish.
Sexual Experience
If a character has more or less experience than the average person, readers want to know why. Your sluttastic Regency heroine is banging half of the ton for a reason. Tell us. Your modern New Yorker knows why she's saving her cherry. Ask her to share this reason with readers.

Modern Virgins
I've written about virgin heroines in my contemporary erotic romances. It can be done. But they have to have a reason for waiting. There's tremendous pressure from peers, society and media to have sex. Just saying "she wanted to meet someone special" isn't going to cut it.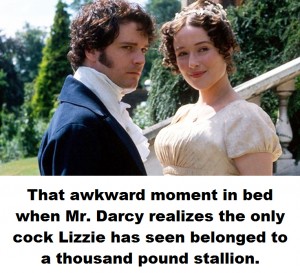 Anna in He Watches Me waited because she doesn't trust people. At all. She wasn't allowing some bigger, stronger man inside her. No way. No how. Arianna, my heroine in the Mastered 2 story, waited because her father threatened to disown her if she had sex. Some heroines are religious. Some heroines saw their moms being abused. Some heroines are training for the Olympics. Some heroines have the Godfather for a father.
Modern virgins and, hell, even rural living Regency virgins, know about sex. Anyone coming from the farm has seen bulls and cows (or horses or squirrels) go at it. A modern virgin has likely watched quite a bit of porn (either Hollywood approved or the real hard core stuff). Unless she has lived under a rock, she has read or heard of Fifty Shades.
The modern heroine knows what and where her pussy is. The hero shouldn't have to point her pussy out to her (Oh my God. WHAT is THAT doing THERE?) or explain how it works. She's touched herself. She might have used sex toys or a cucumber or the anal invader (grins).
When the heroine has sex for the first time, it is unlikely to be fucktastic (unless there's been a LOT of prep – Anna had two novellas plus worth of prep). The first time hurts. Unless she's a pain whore, she won't get off during penetration.
A considerate, in love, aware hero will prepare the heroine. Maybe he'll give her an orgasm before the main event, ensuring she enjoys some part of it. If the hero is none of the above, the first time could be a disaster, adding delicious conflict to the budding relationship. She loves him but, oh noes, the sex is bad. Whatever will she do?
The Super Slut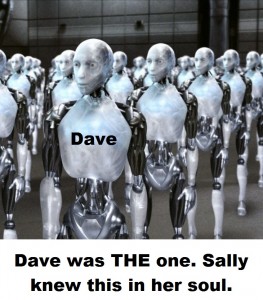 The opposite of the virgin heroine is the super slut. I've written about super sluts also. Again, they have a reason for banging every guy (or girl or chicken) they meet. Condoms are a must for the super slut heroine or you'll receive an email from the condom police, a group of passionate readers ensuring fictional characters don't get herpes. Proving that super sluts feel differently for their heroes is a big challenge. What makes our stud different from the hundreds of men who came (grins) before him?
Be careful with the super slut heroine. Some readers become very angry if the heroine (or the hero) has sex with a person other than her love interest. If super slut needs a monogamous relationship to be happy, I usually hint at her past but don't show it. So maybe she runs into people she's had sex with (awkward!). If super slut needs variety, I show that the hero is as into this sharing of her naughty bits as she is.
Toe Suckers, Exhibitionists And Pets
Any kink or fetish or different sexual lifestyle should have a reason for being. If I receive a review saying "I don't understand why anyone would like (insert kink here)", I know I haven't made this reason clear enough. That's a #WritingFail
My story for the Mastered 2 box set has a BDSM theme. BDSM is complicated. It usually has two or more elements to it. In my story, I had to explain why the heroine likes pain with her sex AND giving over control. I also had to explain why the hero likes to deliver pain AND take control.
Exhibitionism is simpler. The heroine likes to be watched. What in her past created this preference? Why is the hero attracted to a woman who likes to be watched?
Having the kink helps with the mechanics. It doesn't always help with the psychology because, as I mentioned previously, we don't always know why we do things.
Truly understanding why a kink appeals to people takes a bit of research. This is often why writers specialize in one kink. Once we've done all of this research (normally because we're personally interested in that kink), we spread that knowledge over multiple
stories.
From a marketing point of view, if the kink has a large following (as BDSM does), mentioning the kink in the back cover copy might increase sales (with BDSM – this might mean talking about Doms and subs and BDSM clubs in the back cover copy). If the kink has a smaller following and you're looking for a wider readership, hinting that the heroine has strange yearnings might be a better route to take. I'm not into foot fetishes so I won't pick up a story centered around this but I WILL read a well crafted story starring a character with a foot fetish.

What do you keep in mind when writing about characters with extreme sexual experiences or fetishes?
If you liked this post, you might like
Writing Erotic Romance – Balancing Sex And Plot
or
Writing Erotic Romance – Making Every Sex Scene Different
or
Writing Erotic Romance – Making Sex Sexy
or
Writing Erotic Romance – The Basics Of A Sex Scene
or
Writing Erotic Romance – Word Choice
***
Subscribe To My Release Day Newsletter: http://tasteofcyn.com/2014/05/28/newsletter/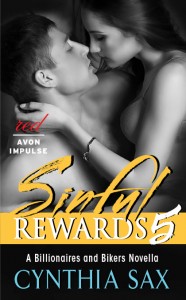 Nicolas Rainer, Chicago's most sought-after billionaire bachelor, has finally decided what he wants, and that's Bee Carter in his arms, forever. He shows up unannounced on her doorstep and kisses her until her toes curl and her body burns.
Nicolas wasn't the sexy man Bee expected to see this morning. Hawke Masters, her tattooed former marine, is riding his customized chopper toward the condo building, anticipating an equally mind-meltingly erotic encounter.
Both men want her with a thrilling intensity. Neither her billionaire nor her biker wishes to share her affections. Is today the day Bee is forced to choose?
Buy Links:
Amazon: http://www.amazon.com/Sinful-Rewards-Billionaires-Bikers-Novella-ebook/dp/B00IMHU7FG
ARe: https://www.allromanceebooks.com/product-sinfulrewards5-1663924-237.html
Avon: http://www.avonromance.com/book/cynthia-sax-sinful-rewards-5
Barnes And Noble: http://www.barnesandnoble.com/w/sinful-rewards-5-cynthia-sax/1119919838
Google: https://play.google.com/store/books/details/Cynthia_Sax_Sinful_Rewards_5?id=nFaYAwAAQBAJ
iTunes: https://itunes.apple.com/us/book/sinful-rewards-5/id828414457