I sat down (virtually) with J.K. Coi for a short interview. J.K. Coi writes hot, emotional paranormal erotic romances for Ellora's Cave and her latest release is Forever Immortal. I read J.K.'s Immortal series when it was previously released, absolutely raved over them then, and now she's tweaked them so they're even better. I didn't think that was even possible!

Cynthia Sax: What makes your Gideon sexy?
J.K. Coi: The thing I love about Gideon is the very fact that he thinks he's NOT hero material. He's a scientist at heart who only ever wanted to bury himself in the lab. And the reality is that he failed miserably at being a warrior, making a devastating mistake early on that cost someone special her life. Since then, he thinks he has to let go of the scientist if he's going to redeem himself, and so he's trained and trained and trained until he can barely remember the person he used to be.
Cynthia Sax: What excites you about Forever Immortal?
J.K. Coi: I love this story because the hero and heroine are so feisty. They play off each other with bravado and wit, and sparks fly like crazy. I also love it because it's the fourth book in the series and brings a lot of the characters from the first book back together. And although I thought it would be the last book, now I know there's more for me to write!

Cynthia Sax: What is your favorite line from Forever Immortal and why?
J.K. Coi: "Human or not, we all have a demon inside us somewhere," Gideon pressed. "It doesn't make you a monster unless you can't control it."
"That's the thing," she whispered. "I don't know that I can."
He sighed. "Then that's where we have a problem."
I don't know why I love this scene in the story so much, but it really shows how hard Gideon is fighting to help Lyssa, not only because she's the mistake he has to fix – but because he sees himself in her. If she's a monster who can't be redeemed, what hope is there for him?

Cynthia Sax: What creates conflict between Gideon and Lyssa?


J.K. Coi: Gideon is a warrior charged with protecting the human realms from the demons who have escaped their eternal prison. Five years ago he was new to the job and when he chased down a particularly nasty demon, he made a huge mistake which put a woman in the crossfire. Now she's returned, but she's no longer human and he's torn between wanting to help her, and doing what he knows he has to do…
Thank you, J.K. Coi, for joining us today!
J.K. Coi's Website: http://www.jkcoi.com/
*****************************************************************************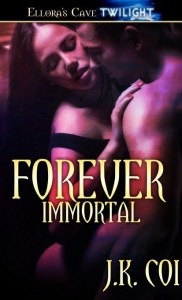 Eight years ago, science and reason ruled Gideon Bennett's life. Until the death of an Immortal triggered a physical transformation, forcing him out of the laboratory and into a world of violence for which he was ill-prepared. Now a seasoned warrior, he is still haunted by his one massive failure—and the face and body of the woman he couldn't save.
Lyssa James wasn't looking for trouble when she set out to enjoy a night on the town. Instead she got a first-class ticket to a demon Hell dimension where she was trapped for eight long years. Now she's finally escaped…only to run into the man who failed her. The passion between them is instant and irresistible, but neither of them is the same person they were eight years ago. And even as they battle with their desire, one of the nastiest demons from the Abyss is on the loose, threatening not only their lives but the future of humanity.
Buy From Ellora's Cave: http://www.ellorascave.com/forever-immortal.html