I sat down (virtually) with Wylie Snow (no relation to Jon Snow from Game Of Thrones) for a short interview. Wylie Snow has self-published her first wonderful romance, Game On, and I love her to bits! (big hugs)

Cynthia Sax: What makes Luc sexy?
Wylie Snow: Countless hours of training give athletes a heightened sense of body awareness and it affects the way they move. Luc, despite a crippling injury, carries himself with grace and a self-assuranced confidence that Clara is immediately drawn to. But that's not his only sexy feature. I fell in book-lust with him as soon as he began bantering with his best friend, Riley. Luc is the kind of guy every man wants for a drinking buddy and every girl wants in her bed.
Cynthia Sax: Where did you get the idea for Game On?
Wylie Snow: A cousin of mine lost her sense of smell after a head injury. I'd never heard of 'anosmia' before, but became fascinated after doing some research. Olfactory nerves, once severed as a result of a head trauma, rarely heal. How much would it suck to never again smell freshly cut grass or sheets off the clothesline. Or worse… cinnamon buns, melting chocolate, baking bread!
Don't ask actor Bill Pullman if he likes your perfume because he couldn't tell you. And Ben Cohen, of ice cream duo Ben & Jerry's, is a congenital anosmiac, meaning he was born without a sense of smell. He's the one who insisted on large chunks in their products to improve his perception of flavor.

Cynthia Sax: Where is Game On set?
Wylie Snow: The story begins in sultry Miami (Is there a more sexy city in the US? I don't think so!) but the blog tour takes Luc and Clara to Boston, Pittsburg, New York, Chicago, and Washington. Clara, who's from England, finds the American experience wonderfully exciting,…especially the hotel suites 😉

Cynthia Sax: Does super sexy Luc have a secret?


Wylie Snow: The hero, Luc Bisquet, is a former pro-hockey player. It's no secret that a gunshot to the knee ended his career, but what the sports world doesn't know is that since his injury, he suffers debilitating anxiety attacks. He avoids crowds and the thought of setting foot in a hockey arena paralyses him with fear. He watches every game on his home media center and conducts all interviews by phone. It's one thing to dupe his employers, but Clara finding out would kill him.

Cynthia Sax: What one piece of advice would you give new writers?


Wylie Snow: I would tell new writers that writing the book may seem like the hardest part, but it's not. Rewriting the book is when the real work starts. And the magic
Thank you, Wylie Snow, for joining us today!
Wylie Snow's Website: http://www.wyliesnow.com/
*****************************************************************************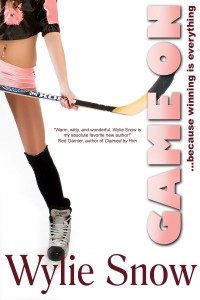 Secrets, lies, lust … whatever it takes to win.
Clara Bean, Europe's most respected restaurant critic, lands on American soil to do a promotional tour with a sports icon. But how will she keep her career-ending secret from her deliciously handsome new partner? She quickly learns that all games have rules, even falling in love.
Luc Bisquet can't seem to score any points with sassy, sexy Clara despite the palatable chemistry between them. But he's willing to endure as many penalties as it takes to crack her icy reserve, because winning is everything. Game on.
Buy Game On Here: http://www.amazon.com/Game-On-ebook/dp/B00CW6B84C